About Robert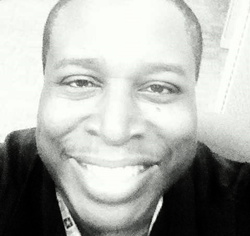 Robert T Graves, Jr. Creator, Host, and Producer of The Gospelvibez Radio broadcast.
(A combination of "Smooth Gospel and Christian Jazz, Contemporary Christian, Smooth Gospel R&B, and Smooth Gospel Soul", Robert brought to the LA radio airwaves in 1999.)
Through his love for Smooth Jazz, Quiet Storm and Smooth R&B formats , Robert, while programming music for one of his broadcasts, found that most of the more mellow Gospel music ministered to him the most and he realized that it had not been used on radio(at least in Los Angeles anyway), thus giving birth to the format he uses today known as "The Gospelvibez". At the age of ten, Robert had dreams of becoming a radio DJ!
After studying Radio and TV Broadcasting in College, Robert set out for a career in radio. Of course there were several "no's" along Robert's journey, but through persistence he continued on until he created an opportunity for himself by buying airtime on a local AM radio in station in Los Angeles and hosting a late night radio show that lasted for 9 months before he had to pull the radio show due to lack of advertisers and funds. He did get a chance to meet and interview several celebrites at that time.
Not to be discouraged, Robert still pressed forward following the advice of a local radio personality who had befriended him and became his mentor by dropping an audition tape and resume at a christian radio station in Long Beach. That was the break Robert needed. He began an on air internship at the station and was hired 3 months into his training! Robert worked for the station 13 years, where he even had the honor of hosting a Gospel music show on the station, which also came with broadcasting live at Gospel brunches where he got the opportunity to interview many Gospel artists.
Along the way, he also worked for other stations in Los Angeles, including one where he was a Network Announcer that broadcasted on multi stations across the country!
In 2004, Robert launched his own Internet Radio station which to date has received 2 award Nominations and other accolades. Robert is living proof that any goal can be accomplished through prayer, persistence and determination.