Radio Announcer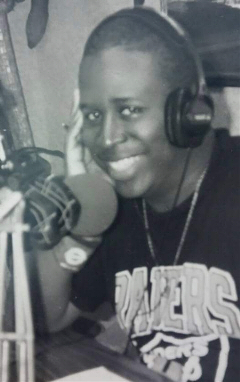 At age 10, Robert knew he wanted to be a radio DJ. His idols were KGFJ radio personalities Alvin John Waples, Buster Jones, Lucky Pierre, and Don Tracy, who Robert would eventually end up working at the with at radio station!
By his Sophomore year in high school, with the help of a close friend, Robert became a member of the "Morning Announcers Crew" where a a group of students gathered in a room in the back of an English class where there was a control board and microphone and they would read the school's events over the school's intercom system in a morning zoo radio broadcast type format. By Robert's Senior yr, he was voted "Best Announcer" and christened "Man With The Golden Voice" Robert knew that would be his destiny.
In his first year in College, Robert created another opportunity for himself when he became the Morning PA Announcer for the College, a position he held until graduating.
Transferring to a University, Robert joined the On Air staff on the University's Radio Station. Fast forward, Robert has worked at several radio stations in the Los Angeles area, he's done live remotes and hosted Gospel Brunches also.
For the past 11 years, Robert currently has his own Gospel and Christian Jazz Internet Radio station that streams 24/7 on live365.com.